<! Comment. ffefdb = light tan. ccffff = light blue> <!BODY background="C:\Acme\Ed\HTML\Sande Ace Web Page\Hood Canal Map1.gif">

The Famous Sande Ace
by Earl Sande
---
When I'm out and about or at a social function around Bremerton, it's still fun to hear people talk about how much the Sande Ace was part of their lives when they were young. In the late 50s and early 60s the Sande Ace was the boat to have for water skiing or just goofing off. Even with a 25 horse-power motor, the Ace was a good ski boat, but if you had a 40 or 45 horse you were really skiing in style.


The Sande Ace boat story starts in the South Pacific during World War II where my dad Orrin Sande was stationed with the US Army Corps of Engineers. I don't know how long he had been thinking about building wood boats, but while in the Army he began sending his pay check home to be put in the bank for a nest egg to start a wood boat building business when he got out.

My uncle - Dad's brother Allan - liked the idea and the two brothers started building cedar strip boats in late 1945 for Gus Swanson to learn how it was done correctly.

The Sande family lived in a waterfront home on Hood Canal 11 miles out the North Shore road from Belfair and in late 1946 built a manufacturing shop and other out buildings on that property across the county road. The new business was called Sande Boat Works.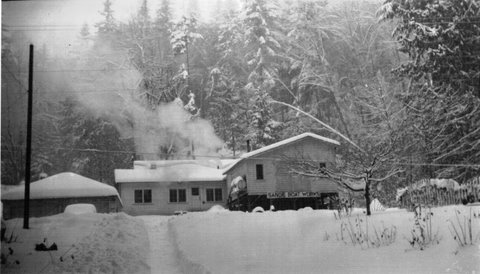 My grandfather, Reuel, was a lead man in the sheet metal shop in the Navy Yard at that time and started helping his boys out in 1947. It wasn't long before he quit the yard and joined the company full time.

While in the Navy Yard, Reuel and five other shipyard workers dreamed of cruising Puget Sound in their own yacht.
These hard working family men didn't have the money to buy one but they did have the energy and brains to build one. They just needed an expert boat builder to guide them. Their man was Swanson, owner of Swanson's shipyard near Shelton.

In 1946, Gus was in his 80s and had been building wood boats for nearly 65 years. One of the guys got hold of some plans for a 33 foot cruiser that was designed by Ed Monk Sr., the most famous northwest boat designer of that time. Gus agreed to supply the basic materials for the hulls for $1,950 apiece.

Orrin, Allan and Reuel Sande worked hard on their 33-footer and finished it in near record time. They installed a new Greymarine engine with a direct drive and launched it in December 1946, and enjoyed cruising Puget Sound and the San Juan Islands at a comfortable 6-7 knots.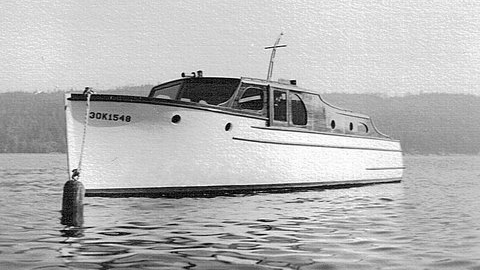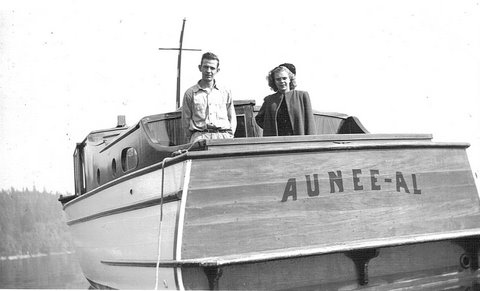 This experience taught them a lot about building boats, but they sold the 33-foot "Aunee-Al" two years later and put all their efforts into building 12 to 21 foot cedar strip boats at Sande Boat Works near Tahuya. Over the next fourteen years they built nearly one thousand wood boats.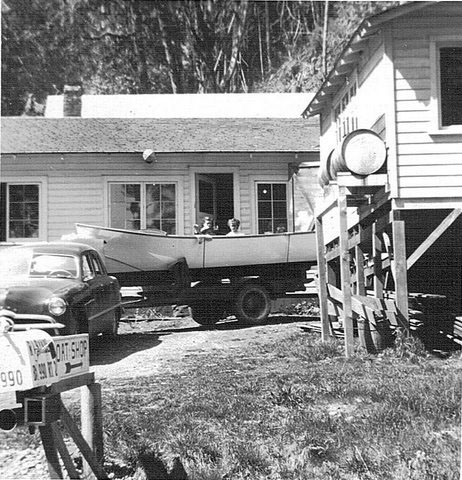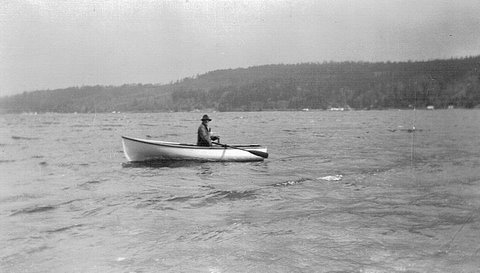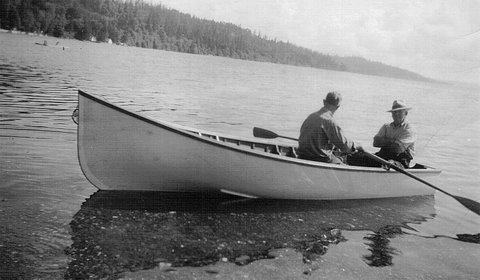 In the 50s, marine plywood boats became popular and Sande Boat Works started building some from eight foot to eighteen feet long. Orrin and Allan saw some plans for a 12-foot runabout designed by the legendary naval architect William Jackson in a 1956 boating magazine. They studied the design and made a few improvements, including stretching it out to 12.6 feet and later to 13 feet. They even built a few Aces fourteen feet long.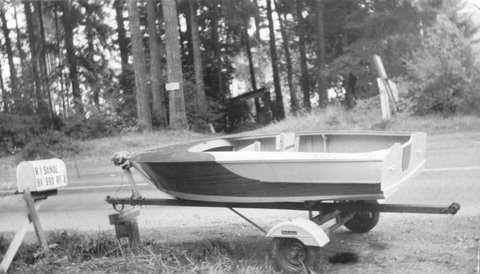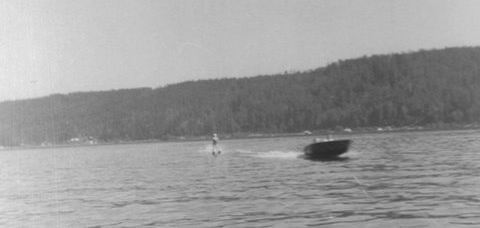 The little boat performed even better then expected and soon was the most popular ski boat in the Hood Canal and Bremerton area. Some bold young guys even put Mercury's most powerful outboard on the transom, a six cylinder inline 60 horse, making the Ace one of the fastest boats on the water. About 265 of these 13-foot mahogany plywood boats were built from 1956 to 1959.

Sande Boat Works quit building wood boats in 1960 when most people wanted fiberglass boats that required less upkeep. They then built the boat retail store and repair shop in Belfair and sold Glaspar and Pacific Mariner boats along with Mercury outboards.

The Sandes sold the business in 1975, and it was sold again in 1980. The property recently was sold in the fall of 2006 and bulldozed in the spring of 2008. A big chain drug store is now rising from the ruble.

They built a few Aces in the early 60s at the old Tahuya shop for people who had to have a new one at any price. The first receipt for an Ace I could find was April 10, 1956 to Marine Trading Mart, 3207 East Lake Ave., Seattle. Marine Trading Mart was bought by Advanced Outboard, which later became Bayliner and still later became part of the Brunswick marine family, one of the largest boat and motor manufacturing companies in the world.

The next receipt was to my Uncle Cecil Baldwin Jr. for May 9, 1956. Allan told me that a few Aces were sold to local people before either of these two sales.

By 1959 a Sande Ace sold for $395 for just the boat.

Tom Regan, owner of Grapeview Point Boat Works, built a new ace two years ago. It is a beautiful piece of art, and boat, motor and trailer can be bought for $13,000.

Wow! Times have changed.

A lot of people have great memories of summer fun in a Sande Ace nearly 50 years ago. Just last week at a barbecue I was talking to Mike and Cindy Baxter, who now live in Idaho but grew up in Bremerton. Mike talked about his fun memories of owning a Sande Ace in the early 1960s. He felt sad that Sande Boat Works is gone physically and that it would only be a matter of time before it would be lost in forgotten history.

Most of the Aces were not kept under cover in dry storage and rotted away with time. But they still exist!

On July 26, my wife Amy Burnett and I went to the third annual Sande Ace convention near Tahuya at the home of Ed and Linda Waali. Four gorgeous Aces were in the water, race ready. Three had old white Mercury four cylinder outboards on the transom.

It was very cool taking pictures and talking to these Sande Ace owners that have so much passion for these fine old boats.



---
---