Plans for the Original Ace.
The
Boat Builder's Handbook
was published periodically by
Science and Mechanics
in the 1950s and 1960s. It offered plans for all types of boats including the "Ace" in 1956. This 12-foot design was created by William D. Jackson, a legendary naval architect and boating editor of
Science and Mechanics
who was famous for his many, many plans for the average boat builder. Click to read an
article about Jackson
from a 1988 issue of the
Small Boat Journal
.
The Sandes started with this 12-footer and at least one of these still exists. They finally improved on the design by stretching the plans for their
Sande
Ace to 13' 2". The beam width stayed essentially the same. They apparently also played with a 14-foot design although these are not as well documented.
Click the cover to find Jackson's original Ace plans.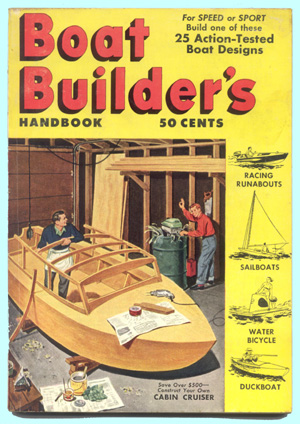 The original Ace, shown on the cover, was a "speedy two-cockpit outboard runabout for towing water skiers and general family boating."
- 12' 4" long
- 5' 9" beam width
- 32 MPH with a 16 HP Evinrude
- 50 MPH with a 40 HP Mercury with a quickie lower unit
Its beveled chines - a William Jackson signature - allowed "safe turns at high speed." The subassembly construction also lent itself to "mass production by the assembly line method."

---
EJ Builds a Texas Ace
EJ built his Ace from the original plans. It's shown below in 2004 with a 25 HP Wizard outboard motor. The four-cylinder motor was made by Kiekhaefer and sold through Western Auto stores. Note: EJ's photo has been flipped horizontally to make a better comparison with the above photo.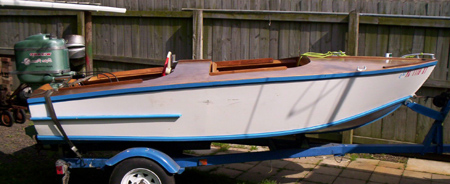 ---
Bruce Restores an Original 12-Foot Ace
Bruce found a one-owner, home-built 12-foot Ace in Spokane. He restored it and gave it the power of a beautiful Merc 400. Click here or on the picture to see his work.



---
Scott's Ace in the Midwest
Check out Scott Hushour's 12-footer by clicking here or on the photo.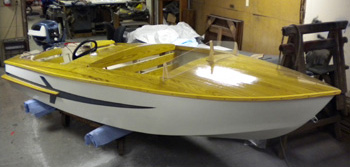 ---
Andrew's Grecian Ace!
Just what are these people celebrating? Successful sea trials of the Ace that Andrew Walters built in Greece from the original plans! Click here or on the photo to see his work.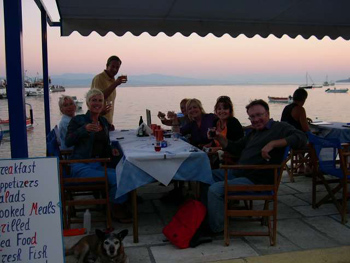 ---
Paul's Original Ace!
Paul Gager found the plans for the original 12 foot Ace and built the predecessor to the Sande version. Click here or on the photo for Paul's story.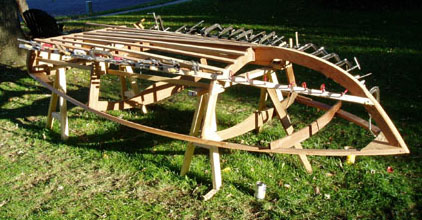 ---
Fred's 12-Footer!
Fred Droney has also used the original plans to build a 12 foot Ace. Click here or on the photo to see Fred's story.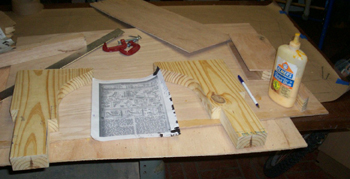 ---
Friends in Denmark Build an Ace!
Click on the photo to see their start. More later....we hope.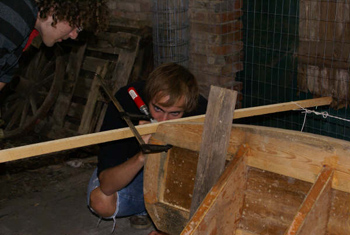 ---
---