The Plans
The
Boat Builder's Handbook
was published periodically by
Science and Mechanics
in the 1950s and 1960s. It offered plans for all types of boats including the "Ace" in 1956. This 12-foot design was created by William D. Jackson, a legendary naval architect and boating editor of
Science and Mechanics
who was famous for his many, many plans for the average boat builder. Click to read an
article about Jackson
from a 1988 issue of the
Small Boat Journal
.
The Sandes started with this 12-footer and at least one of theirs still exists. They finally improved on the design by stretching the plans for their
Sande
Ace to 13' 2". The beam width stayed essentially the same. They apparently also played with a 14-foot design although these are not as well documented.
Click the cover to find Jackson's original Ace plans.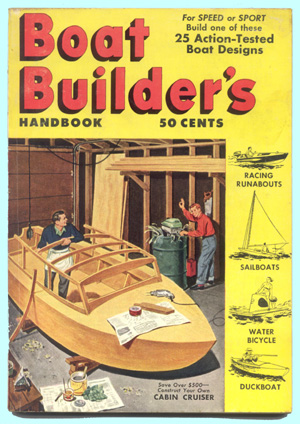 The original Ace, shown on the cover, was a "speedy two-cockpit outboard runabout for towing water skiers and general family boating."
- 12' 4" long
- 5' 9" beam width
- 32 MPH with a 16 HP Evinrude
- 50 MPH with a 40 HP Mercury with a quickie lower unit
Its beveled chines - a William Jackson signature - allowed "safe turns at high speed." The subassembly construction also lent itself to "mass production by the assembly line method."

---
The Old Professor of Bilge Water Academy
As the story goes, the plans for the original 12-foot Ace were hand drawn by William D. Jackson and draftsmen put them in publishable form for the
Boat Builder's Handbook
. Every once in a while, though, Jackson inserted a more personal note. When he wanted to strongly emphasize a construction point, he would use the moniker
"the old professor of Bilge Water Academy."
He used this title in the Craft Print No. 233 Ace plans when he described how important it was to have a flat hull to prevent porpoising which he called "galloping."
---
---
Nine Aces from the Original Plans

Click here or on the photo to see beautiful modern-day examples of the 12-foot Ace!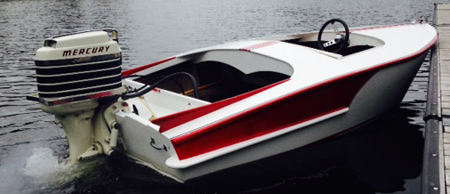 ---
---